TIMES MALANG, JAKARTA – Bromo seems has never ended attraction to peek. From the enchanting natural beauty to artificial attraction, this place has always brought some peace to the visitors. Including a new dining venue located at the same area named as Bromo Rest Café.
Located at Sariwani Village, Sukapura District, Probolinggo Regency, East Java this place belongs to Oka Hadi Siwanto. Oka was a newcomer to the area and was born and raised in Surabaya. But then he decided to move and stay at Kraksaan, Probolinggo.
You could reach the café from Sukapura rest area head to Sukapura police station. Go straight to the south to a little bit sloppy area till you find a smaller road heading to Sariwani village. This road will lead you to the café.
The café will be on your right after 0.5-kilometer way. Though you will find a bumpy road to go to the café, but the nice atmosphere of the café will make you forget about the little obstacle and may be unpleasant experience to reach the area.
The café was not that big enough. But it's enough to accommodate around 100 customers at a time. "This café was established on top of Perhutani (local forestry department) land. It's about 20 meter square vast from end to end," Oka said.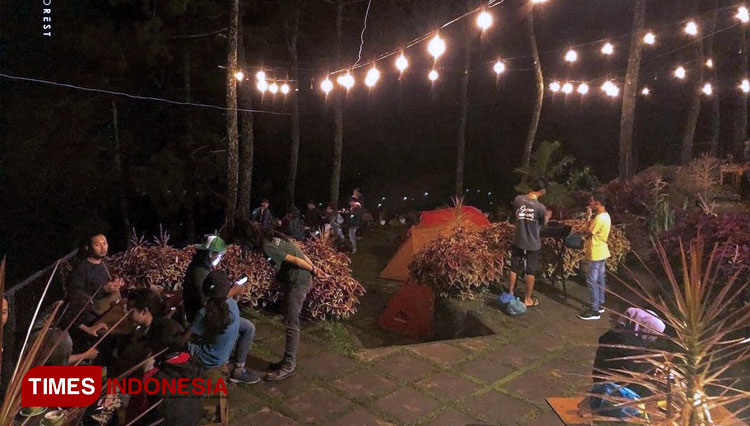 The visitors sometime had to bring their coffee and sit on the ground outside of the café whenever it's too crowd. But this experience makes you feel like you were blended with nature more.
The café area itself was an open area with several tables and chair to accommodate the visitors. The management also provide some tent for those who willing to have a slight taste of camping you could enjoy your café in it.
There around 9 tents patched on the café area. These tents were aimed to keep the customers from the rain as well. So, when the water starts to fall down, you could directly hide under the waterproof tent and make yourself warm and cozy in it.
There several foods and beverages provide by the management to fill your belly during your time staying in this café which offers a cold breeze of Mount Bromo. Bromo Rest Café has some toast, baked potato, coffee, juices, and more. All in a very affordable price.
So, make sure you visit Bromo Rest Café each time you go to Bromo during your vacation. (*)
| | |
| --- | --- |
| Pewarta | : |
| Editor | : Khodijah Siti |